Fashion | Blue As the ocean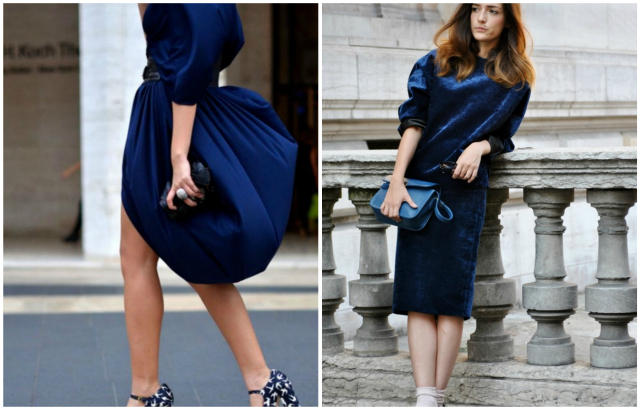 I've always loved blue… midnight blue, azure, ice blue, a clear, classic blue, you name it. Thankfully one of spring's biggest trends is, yes!, aqua colors.
I've found six items that I would love, love, love to wear, but if I was only to choose one which should it be? The nail color with its ice blue diamond dust is obvious, but when it comes to which dress to buy I am more in doubt. I am madly and deeply in love with the draped dress from Finders Keepers (No. 1), but also Erdem's lace dress (No. 5) is really, really beautiful (and really, really pricy!).
Hmm. If there's a few readers out there, please come out of the sand and help me out a bit ;-)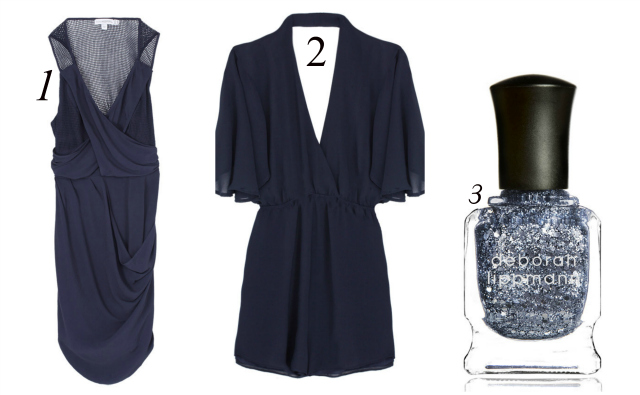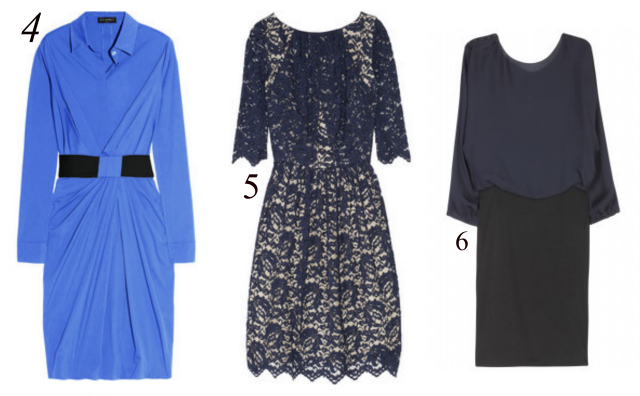 1. Finders Keepers, €120, 2. Finders Keepers, €93, 3. Deborah Lippmann, €22, 4. Vionnet, €1110, 5. Erdem, €1995, 6. Alice + Olivia, €275
_____________________
Jeg har altid elsket farven blå, hvad end det gælder midnatsblå, azurblå, isblå eller den klare, klassiske lyseblå, som i årevis er blevet (skam)brugt af bankmænd og forsikringsfolk.
Lykkelig er jeg derfor, når jeg ser, at en af forårets helt store farver netop er aqua-farverne. Så er spørgsmålet bare, hvilken af de seks ting, jeg lister nedenfor, som jeg burde investere i? Neglelakken, med dens isblå dimantbidder, er selvskreven, men når det gælder kjolerne er jeg mere i tvivl. Jeg er hovedkulds forelsket i den draperede kjole fra Finders Keepers (nr. 1), men også Erdems blondesag (nr. 5) er virkelig, virkelig smuk (og virkelig, virkelig pricy!).
Hmm. Må i tænkeboks, og hvis der er et par læsere derude, så kom frem af busken og hjælp mig lidt ;-)
Mixed tape | Greetings from Mexico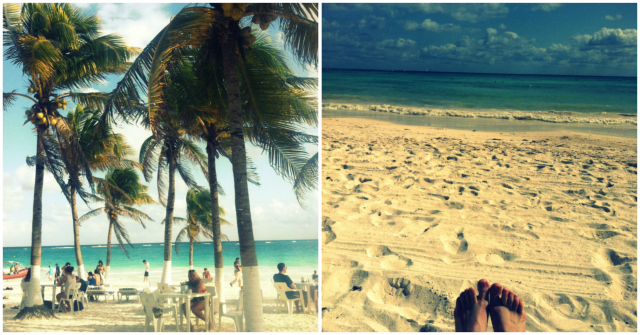 Among palm trees, brilliant sunlight, scalded shoulders, what I call my 'Kenya terrace' (large, rustic with a hammock in the corner which reminds me of Karen Blixen's Africa) and a blue, blue ocean, I'm right here in Mexico. And I love it.
The hotel, located right in the middle of the jungle (where large lizards and raccoons that resemble small robbers greet us every evening) is fine but a little too touristy and I am struggling a bit with really, and here I mean really bad food… the hotel promote themselves as a gourmet place, but yikes, the food is really bad, undercooked and well, not tasty at all. I've even been to a supermarket in order to find toast (but they put sugar in it?) and meat (but it's neon pink?). Hmm.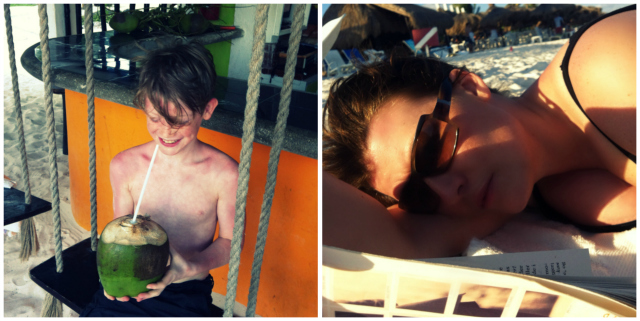 .. however, while I'm sitting here, reading chic-lits, it's raining, I've been served a cup of coffee, the air is fresh and clean, I feel almost… happy.
___________________
Blandt palmetræer, høj sol, skoldede skuldre, det jeg kalder min 'Kenya-terasse' (stor, rustik, en fane i loftet og en hængekøje i hjørnet… der utvivlsomt giver mig associationer til Karen Blixens Afrika) og azurblåt hav, er jeg lige her, i Mexico. Og jeg elsker det.
Hotellet, som ligger midt i junglen blandt sump, store øgler og de fineste vaskebjørne, som ligner små røvere, er fint, men lidt for All Inclusive-agtigt, og jeg kæmper lidt med virkelig, og her mener jeg virkelig, dårlig mad… hotellet skulle være sådan et gourmet-sted, men uf, hvor er det noget juks og jeg aner ikke, hvor min guacemole, mine quesadillas og min anden Mexi-favoritmad er henne… indtil videre har det været umuligt at opstøve.
Dårlig mad til trods… Indtil videre har vi bare skulle falde til og falde ned… men nu, hvor jeg sidder her, har læst to chic-lits allerede, det regner, jeg har fået serveret en kop kaffe, vi drikker saften fra kokosnødder, luften er frisk og ren, så føler jeg mig nærmest… lykkelig, her midt i livets ulidelige lethed.
Fashion | Carine Roitfeld as a client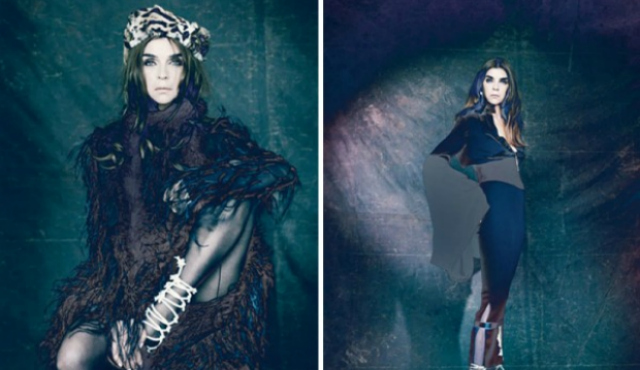 I've always loved the former french Vogue editor Carine Roitfeld… yes, her style is impeccable, inspiring and downright gorgeous, but what I've always loved about her the most is that she seems so down to earth, so unaffected with the industry and so true to her style.
Needless to say that I love this video where Carine Roitfeld appeared at last Paris Couture week as a client — and W Magazine's cameras went along for the ride. The small documentary was filmed by famous French film director Loïc Prigent and W followed the charming 'editrix' to more than 20 fashion shows, to fittings with couturiers from Jean Paul Gaultier to the reclusive Azzedine Alaïa, and, finally, to a two-day shoot with photographer Paolo Roversi. Yeah.
__________________
Jeg har altid beundret den tidligere Vogue-redaktør Carine Roitfeld… jovist, hendes stil er upåklagelig og inspirerende til det punkt, hvor jeg nærmest kan komme til at snappe efter vejret, men det, jeg mest af alt elsker ved hende, er, at hun synes så nede på jorden, så upåvirket af branchen og så tro mod sin stil. Hun kan om nogen worke et pencilskirt på 1000 gode måder og stadig se chic ud.
Unødvendigt er det derfor at sige, at jeg elsker denne video, hvor W Magazine dokumenterer Carine Roitfelds indtagelse af Paris Couture Week som en ganske almindelig, men well-off, klient. Den lille dokumentarfilm blev filmet af den berømte, franske filminstruktør Loïc Prigent og W magazine fulgte den charmerende 'editrix' til mere end 20 modeshows, til fittings hos Jean Paul Gaultier og Azzedine Alaïa… og endelig til et to-dages photoshoot med fotografen Paolo Roversi. Yeah.
Mixed tape | Happy new year!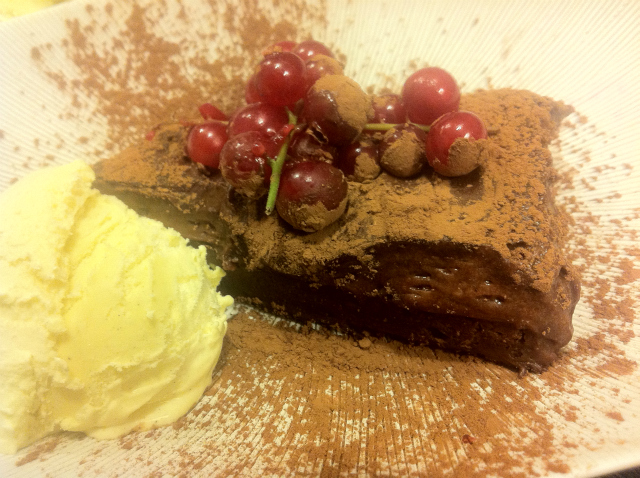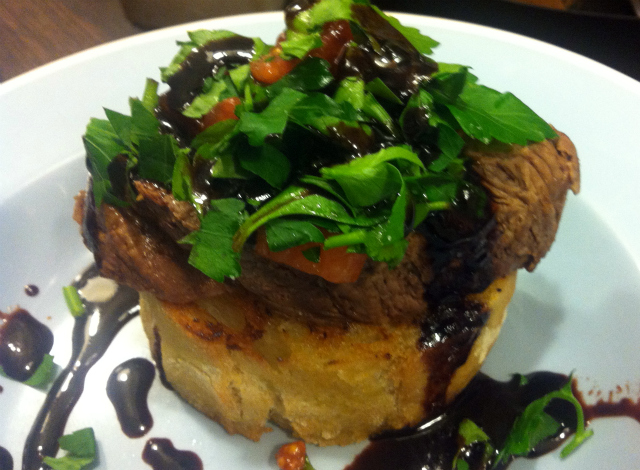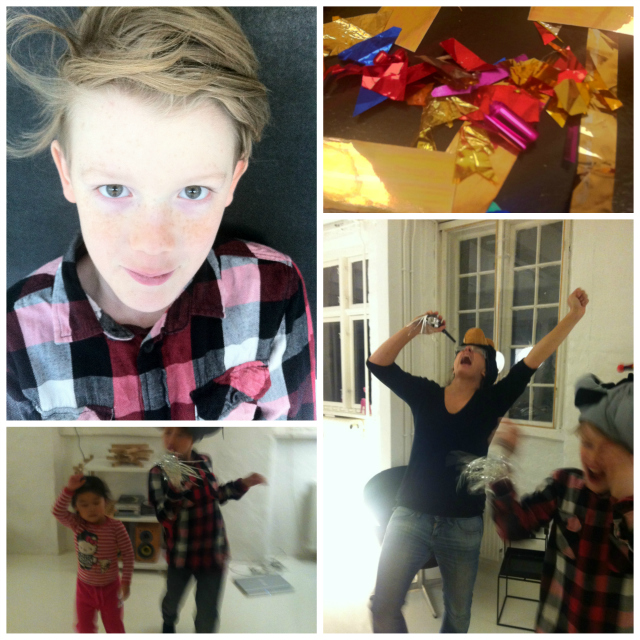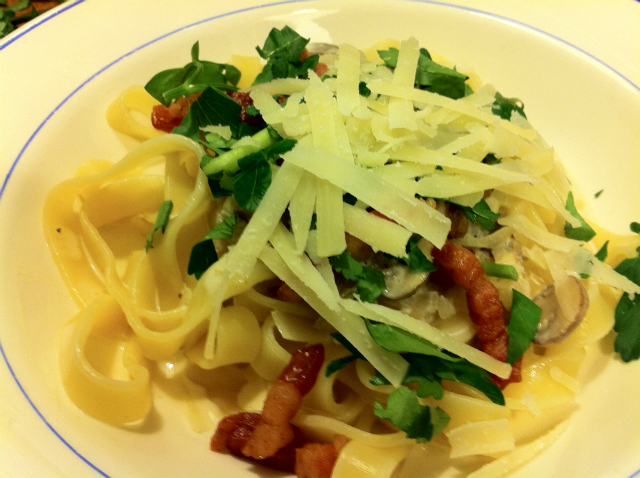 Happy New Year and welcome to 2012!
With the new year comes a fresh pile of resolutions, well at least here, inside of me. My list is currently so extremely long it reaches down to my toes. As I sit on my daybed gobbling up yesterdays leftovers I mumble about how I will join the gym, try out kettlebells, loose that extra 10 pounds I've gained, be more in the moment instead of worrying about the past and the future, trying to be a bit more experimental when it comes to outfits… but the words are muffled by the shoveling movement of my hands eating, drinking hot cocoa and hugging my loved ones. Ah well, such is the charm of lists… I hope everyone looks back on 2011 with a sense of appreciation and joy. It's been a great, but also tough year in my book and I'm looking on with great anticipation for the new one that lies just ahead.
My New Years Eve was indeed joyful. Lots of dancing, lots of fireworks, loads of good food and warm-hearted fun… I was with my favorite people, so the evening could honestly not have been better. But today … my god. I am absolutely knackered even though I really didn't get more than a few glasses of wine… am getting old.
The menu, which I relatively quickly maneuvered together, was fettuccine with mushrooms and a sauce of cream and white wine (Riesling to be exact) garnished with bacon (bresaola would also be lovely) and a sprinkle of parsley and parmesan. Then beef tenderloin on a slice of garlic bread topped with herbs and lettuce and a thick, sweet and full-bodied red wine glace generously poured over the dish. The dessert was quite traditional (well, actually the whole menu was)… Garteau Marcel, a little scoop of homemade vanilla ice cream and red currants… simple food-love to the ones I love.
I'll post the recipes separately later. For now … zzzz.



Godt nytår og velkommen til 2012!
Med det nye år i sigte dukker der altid en bunke nytårsforsætter op… Min liste er i øjeblikket så ekstremt lang, at den når ned til mine tæer. Som jeg sidder på min daybed og spiser gårsdagens rester, mumler jeg noget om, hvordan jeg vil melde mig ind i et motionscenter, afprøve de der kettlebells, som folk i min nærhed lovpriser, tabe 5-7 kilo, være mere i nuet i stedet for at bekymre mig om fortiden og fremtiden, forsøge at være lidt mere eksperimenterende, når det kommer til, hvad jeg vælger at klæde mig i… men ordene er dæmpet af mine travle hænder, der har travlt med at spise, drikke varm kakao og kramme mine kære. Ak ja, sådan er charmen ved lister… Jeg håber, at alle ser tilbage på 2011 med en følelse af værdsættelse og glæde. Det har været et godt, men også hårdt år i min bog, og jeg ser med stor forventning frem til de nye eventyr-sider, der venter forude.
Min nytårsaften var skøn. Jeg havde en dejlig, hyggelig og aften, fyldt med dans, pakkeleg, fyrværkeri, god mad, hjertevarme, sjovhed og nærhed… og så var jeg sammen med mine yndlings-mennesker, så aftenen kunne ærlig talt ikke have været bedre. Men i dag… i guder. Jeg er helt smadret og har ondt i håret, selvom jeg egentlig ikke fik mere end et par glas vin… suk! Er godt nok blevet gammel.
Menuen, som forholdsvist hurtigt blev bakset sammen, stod på fettuccine med svampe og sauce af fløde og hvidvin, hertil garneret med bacon (bresaola vil også kunne bruges), et drys bredbladet persille og parmesan til forret, kalvemørbrad på hvidløgsbrød, en top af urter og salat og en tyk, sød og fyldig rødvinsglace rundhåndet hældt ud over herligheden. Desserten var ret traditionel (det var hele menuen vel i grunden), nemlig Garteau Marcel, lidt hjemmelavet vanille-is og lidt ribs.. simpel mad-kærlighed til mennesker, jeg elsker.
Jeg skal nok poste opskrifterne hver for sig senere. For nu… zzzz.
Design | central library of Stuttgart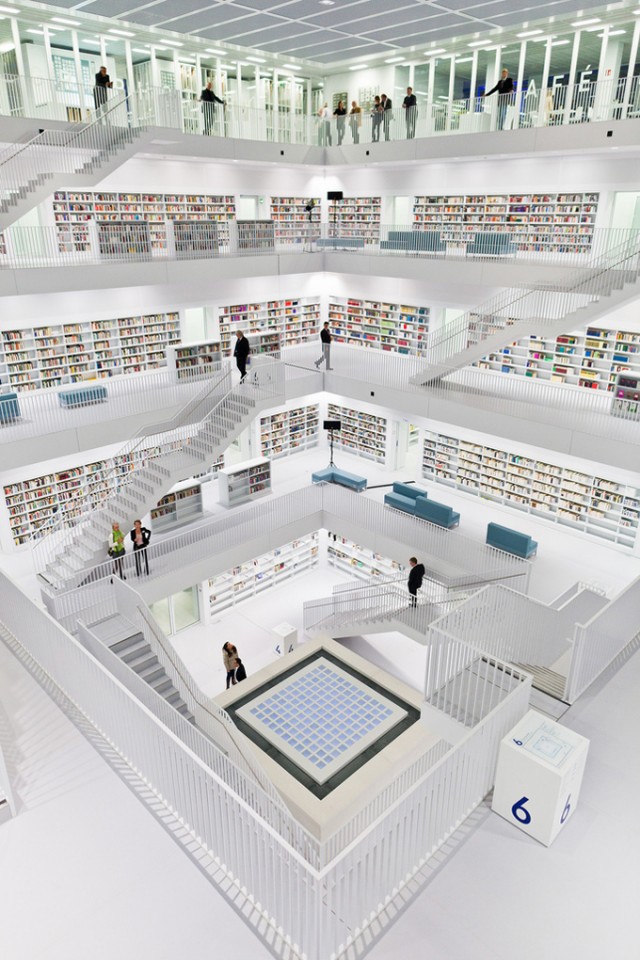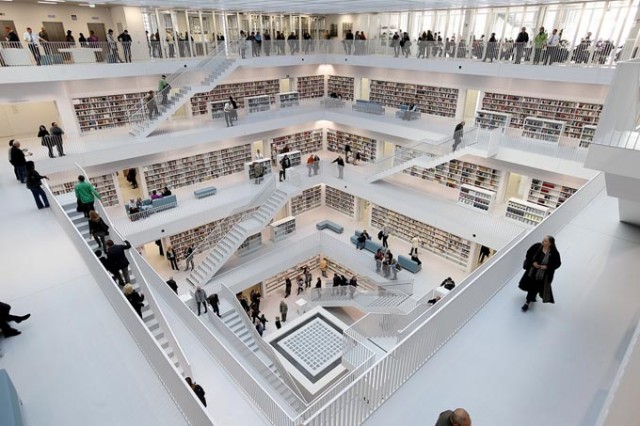 Must. Go. To. Stuttgart. Soon… I need to see this library in real life. The korean architect Eun Young Yi's proposal was selected in 1999 from 235 competition entries as the plan for the new central library of the City of Stuttgart.
The building of the 80-million Euro (about $108 mil. US) Stadtbibliothek am Mailänder Platz began three years ago and the opening ceremonies took place a few month ago. Yi has created a monolithic cube with two floors underground and nine above. Essentially all of the building, both inside and out is white. The main library floors circle an open-plan with the levels connected by open staircases. Books line the outer walls of each floor.
Pretty awesome!
FOOD | My best friend brûlée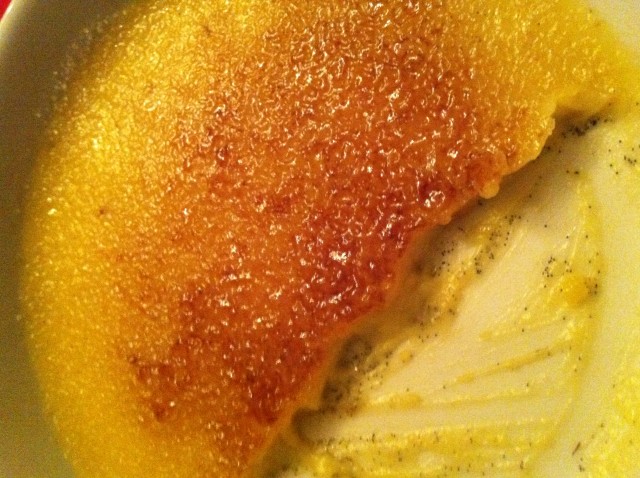 WHAT'S BETTER THAN A CREAMY, THICK COSTARD? I CAN'T THINK OF ANYTHING.
The origins of crème brûlée (pronounced krehm broo-LAY, guys and girls) are very much in contention with the English, Spanish, and French all staking claim. The Spanish have taken credit for this sensuous custard as crema catalana since the eighteenth century, while the English claim it originated in seventeenth-century Britain, where it was known as burnt cream and the English school boys at Cambridge demanded it. It apparently wasn't until the end of the nineteenth century that common usage of the French translation came into vogue, putting it on the map from Paris to Le Cirque in New York City. Its wide recognition today seems to have given the French credit for inventing crème brûlée.
Well, here's my receipe for créme brûlée. I have made several attempts over the years trying to make an over the top crème brûlée. I'm glad to say that I succeeded and that even with minimal effort. I even don't heat up the custard before it goes into the oven… Easy peacy.
THE RECEIPE IS FOR 4 RAMEKINS (OR FOUR CRÈME BRÛLÈE LOVERS)
3 egg yolks (if M then 4 yolks and absolutely no pasteurized eggs, pretty please…)
1 vanilla pod
55 g sugar
Stir lightly with a whisk until the sugar has dissolved. Now add the following ingredients:
110 ml whole milk
250 ml whipping cream
Stir again to uniformity, then sieve the cream and let it rest for half an hour (not refrigerated) and foam off any bubbles. Bake the crème brûlée at 95 degrees for approx. 1 and a half hour or until cream has set. Keep refrigerated until you are ready to caramelize the top with a blowtorch (and do buy a blowtorch… it works wonders).
_____________________
Hvad er bedre en en tyk vanille-creme med et tyndt, men sprødt lag af krystaliseret sukker ovenpå? Jeg kan ikke komme på en mere enkel, nem og helt igennem fantastisk dessert. Well, her får du min opskrift på créme brûlée. Jeg har gjort mig adskillige forsøg gennem årene på at lave den nemmeste, mest enkle, men alligevel mest lækre creme i verden. Jeg er glad for at sige, at jeg synes det er lykkedes; og dét selv med minimal indsats. Jeg opvarmer end ikke cremen, inden den ryger i ovnen… Nemt!
OPSKRIFTEN ER TIL 4 RAMAKINER (ELLER TIL FIRE INDKARNEREDE DESSERT-FANS)
3 store æggeblommer (hvis du køber æg i str. M, så smid 4 æggeblommer i… og husk: Absolut ingen pasteuriserede æg; det smager så hæsligt)
1 vanillestang
55 g sukker
Rør let med et piskeris, indtil sukkeret er opløst, og tilføj nu følgende ingredienser:
110 ml sødmælk
250 ml piskefløde
Rør igen til ensartethed, si cremen og lad den hvile en halv time (ikke i køleskab) og skum af for bobler. Bag crème brûlée ved 95 grader i ca. halvanden time, eller indtil cremen har sat sig (det afhænger meget af din ovn… i nogle ovne har jeg formået at skulle skrue op på 100 grader og lade cremen være i ovnen i to timer). Opbevar cremen i køleskabet, indtil du er klar til karamelisere toppen med en blowtorch (gør dig selv den tjeneste at investere i én i stedet for at prøve at karamelisere i ovnen).
En frisk frugt, for eksempel passionsfrugt eller friske hindbær, er ret så eminent som side dish til crème brûlée.
Fashion | Pretty Natuka Karkashadze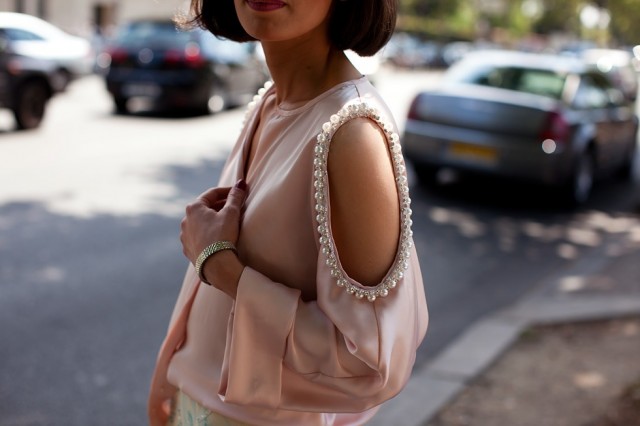 This stylish lady definately gives me the fashion tingles. It doesn't matter what the puts on (be it pearls and red lipstick, skinnies and a lambs wool waistcoat or leopard prints mixed with dots and checks)… her posture, her hair, which definitely gives me the desire to actually cut my own hair, her outfits and her sense of shapes, colors, textures and patterns is always spot-on. I especially love this silk blouse with huge pearls… awesome!
________________
Denne stilsikre dame giver mig kuldegysninger… på den gode måde, altså. Det er komplet ligegyldigt, hvad hun vælger at tage på – om hun ifører sig oppulente perler og rød læbestift, downdresser med skinny jeans og en lammeuld-vest eller mikser og matcher leopard-print med prikker og tern, så er hun spot-on. Jeg elsker specielt den her rosa silkebluse med cutouts og chunky perler… fantastisk!
Current Craving | Dress from Asos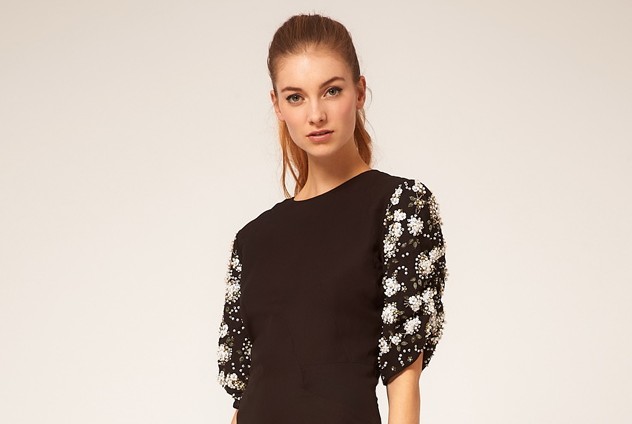 I wouldn't mind this little baby to move into my closet…. crafted from single coloured fabric, with embellished arms. Featuring a scoop neckline and back, with a peekaboo detail. With a tailored body featuring darts to the waist, and a pencil skirt with a slash to the back of the hem. Embellished with sequin and bead detailing to the cropped length sleeves. From Asos and it's €85.
________________
Jeg ville ikke have noget imod, at denne lille skønhed flyttede ind i mit skab …. enkel, skræddersyet krop med en lille peekaboo-detalje ved nakken, et pencilskirt og de fineste dekorerede arme, der er forskønnet med pailletter og perle-detaljer. Kjolen er fra Asos og koster 850 kr.
Beauty | Wuthering Heights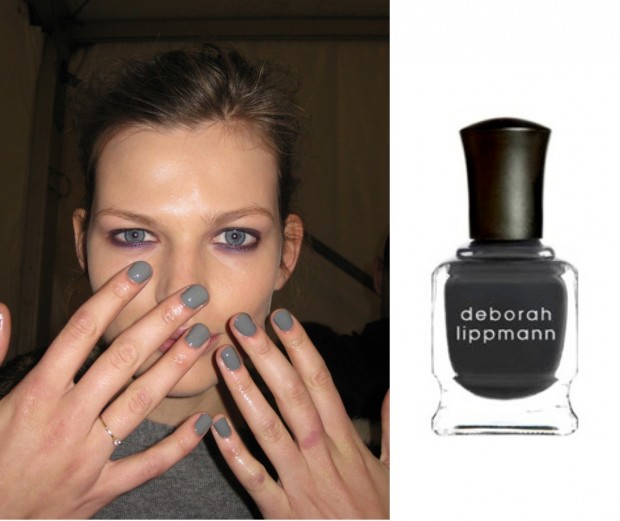 A small but not negligible beauty tip: Designer Narciso Rodriguez contacted manicurist Deborah Lippmann 24 hours before his AW/2011-collection was to be shown to the press. He was in search for a one-of-a-kind nail polish that symbolized clouds, thunder and storm… was Deborah Lipmann able to work wonders? Yes indeed… in just 24 hours the nail polish Stormy Weather was created.
The nail polish caused great jubilation at Narciso Rodriguez, love at first sight amongst the models (who stole all the samples after the show… who could blame them?) And now the small thunder and storm in a bottle makes me smile brightly. The nail polish is a little darker than the color you see on the model's nails, and perhaps also a bit more green, but it doesn't make me love it less. The nail polish is perfect for an all black or gray looks. Just add a simple silver ring and you are good to go!
__________________
Et lille, men ikke uanseeligt beauty-pip: Designeren Narciso Rodriguez kontaktede Deborah Lippmann 24 timer før hans AW/2011-kollektion skulle fremvises for pressen. Han manglede en one-of-a-kind-neglelak, der symboliserede skyer, torden og uvejr… kunne Deborah Lipmann mon trylle? Ja, det kunne hun, for på bare 24 timer var neglelakken Stormy Weather skabt.
Neglelakken vakte stor jubel hos Narciso Rodriguez, hos modellerne (der stjal samtlige samples med hjem efter showet… who could blame them?) og nu vækker den jubel her på mine negle. Lakken er lidt mørkere, end du ser den på modellens negle (måske blitzen?), men det gør mig nu ikke noget. Synes, den er perfekt til et helt sort eller gråt look.
Fine Finders Keepers, der laver smuk, smukt tøj, som vi alle kan lide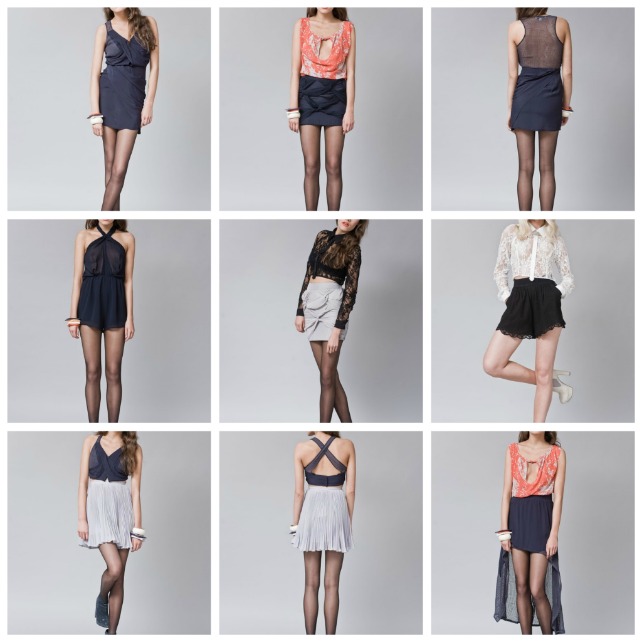 I didn't know of the label Finders Keepers until lately although it's been on the market for over 3 years now… weird. However the designs are so cutting edge, exudes so much coolness and is offered at prices from only €75… what a bargain! In my opinion this small australian label has created the ultimate young fashion forward womenswear label at affordable prices. I'm especially head over heels by the draped dress, the draped skirt and, if I had the legs for it, the combo skirt.
Finders Keepers is available at Harvey Nichols and Triercopenhagen.com
_________________
Tænk sig, at der findes et så hemmeligt mærke som australske Finders Keepers, der alligevel har fingeren så meget på pulsen, emmer af så meget coolness og tilbydes til så fine priser som 699 kr. for en kjole… Jeg er specielt head over heels over den draperede kjole, den draperede nederdel, harmonika-nederdelen og, havde jeg stænger til det, kombo-nederdelen, der matcher minien med maxien. Smart!
Finders Keepers fåes i Harvey Nichols og hos Triercopenhagen.com