FOOD | My best friend brûlée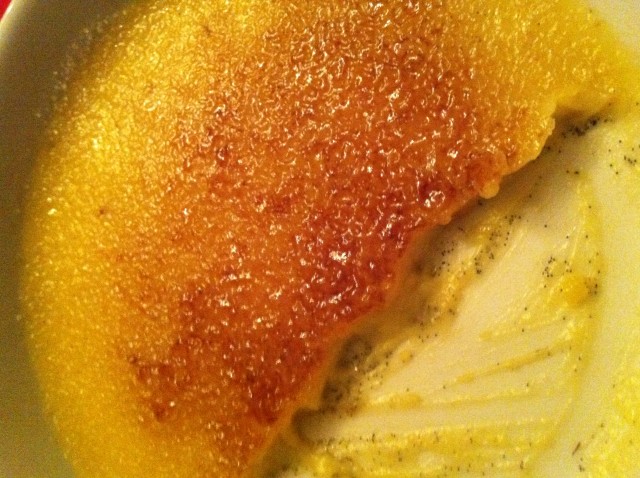 WHAT'S BETTER THAN A CREAMY, THICK COSTARD? I CAN'T THINK OF ANYTHING.
The origins of crème brûlée (pronounced krehm broo-LAY, guys and girls) are very much in contention with the English, Spanish, and French all staking claim. The Spanish have taken credit for this sensuous custard as crema catalana since the eighteenth century, while the English claim it originated in seventeenth-century Britain, where it was known as burnt cream and the English school boys at Cambridge demanded it. It apparently wasn't until the end of the nineteenth century that common usage of the French translation came into vogue, putting it on the map from Paris to Le Cirque in New York City. Its wide recognition today seems to have given the French credit for inventing crème brûlée.
Well, here's my receipe for créme brûlée. I have made several attempts over the years trying to make an over the top crème brûlée. I'm glad to say that I succeeded and that even with minimal effort. I even don't heat up the custard before it goes into the oven… Easy peacy.
THE RECEIPE IS FOR 4 RAMEKINS (OR FOUR CRÈME BRÛLÈE LOVERS)
3 egg yolks (if M then 4 yolks and absolutely no pasteurized eggs, pretty please…)
1 vanilla pod
55 g sugar
Stir lightly with a whisk until the sugar has dissolved. Now add the following ingredients:
110 ml whole milk
250 ml whipping cream
Stir again to uniformity, then sieve the cream and let it rest for half an hour (not refrigerated) and foam off any bubbles. Bake the crème brûlée at 95 degrees for approx. 1 and a half hour or until cream has set. Keep refrigerated until you are ready to caramelize the top with a blowtorch (and do buy a blowtorch… it works wonders).
_____________________
Hvad er bedre en en tyk vanille-creme med et tyndt, men sprødt lag af krystaliseret sukker ovenpå? Jeg kan ikke komme på en mere enkel, nem og helt igennem fantastisk dessert. Well, her får du min opskrift på créme brûlée. Jeg har gjort mig adskillige forsøg gennem årene på at lave den nemmeste, mest enkle, men alligevel mest lækre creme i verden. Jeg er glad for at sige, at jeg synes det er lykkedes; og dét selv med minimal indsats. Jeg opvarmer end ikke cremen, inden den ryger i ovnen… Nemt!
OPSKRIFTEN ER TIL 4 RAMAKINER (ELLER TIL FIRE INDKARNEREDE DESSERT-FANS)
3 store æggeblommer (hvis du køber æg i str. M, så smid 4 æggeblommer i… og husk: Absolut ingen pasteuriserede æg; det smager så hæsligt)
1 vanillestang
55 g sukker
Rør let med et piskeris, indtil sukkeret er opløst, og tilføj nu følgende ingredienser:
110 ml sødmælk
250 ml piskefløde
Rør igen til ensartethed, si cremen og lad den hvile en halv time (ikke i køleskab) og skum af for bobler. Bag crème brûlée ved 95 grader i ca. halvanden time, eller indtil cremen har sat sig (det afhænger meget af din ovn… i nogle ovne har jeg formået at skulle skrue op på 100 grader og lade cremen være i ovnen i to timer). Opbevar cremen i køleskabet, indtil du er klar til karamelisere toppen med en blowtorch (gør dig selv den tjeneste at investere i én i stedet for at prøve at karamelisere i ovnen).
En frisk frugt, for eksempel passionsfrugt eller friske hindbær, er ret så eminent som side dish til crème brûlée.
Comments
No Responses to "FOOD | My best friend brûlée"