Treasures | for babygirls (and moms)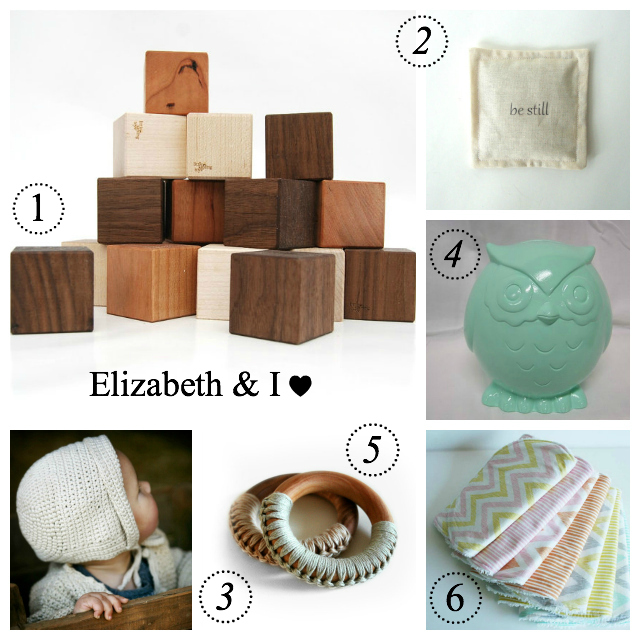 Der er kun knap halvanden måned til, at der kommer en lille pige til verden. Elizabeth skal hun hedde. Vi glæder os helt afsindigt meget; så meget, at jeg ikke kan sætte ord på det. Gad vide, hvem hun er, hvordan mon hun ser ud, hvordan vil hun berige vores verden? Bliver det benhårdt? Hvordan vil August tage det? Kan Charlie-hunden styre sit tiltagende patteri over at vide, at han nu ikke er den mindste? (tænk sig, at en hund kan té sig sådan…) Hvordan f… skal vi nå alle de ting, vi skal nå, inden hun arriverer?
Som tiden nærmer sig, kan jeg godt mærke, at fokus flytter sig. Det begynder at krible i mig for at omgive hende (og de 2 x mo-ar) med smukke ting. Pludselig er babyting interessante, pludselig er de faktisk nødvendige for, at hun kan få en god start, faktisk tror jeg ikke, at jeg kan leve uden dem (or so I convince myself…).
Min altid søde Etsy-ven har derfor igen været mig behjælpelig, for se nu alle de her fine ting, som den lille, nuttede pige skal have, og som jeg tilmed kan holde ud at kigge på.
Jeg nævner i flæng: De pæneste byggeklodser i forskellige træsorter, som også kan sammensættes til en lille kunst-installation, en lille lavendelpude, der skal placeres mellem hendes tøj (Be still, my child!), den fineste, grovmaskede og økologiske hue ever seen, som hun selvfølgelig skal have på, når vi vandrer Amager tynd i vinterkulden, hyggelig mintgrøn spareugle, bare til pynt, den fineste bidering, og så ekstremt billig endda, og sidst, men ikke mindst, små, fine økologiske stofbleer med print. Very pretty.
1. Fine byggeklodser fra littlesaplingtoys, $28 2. 'Be still'-lavendelpude fra MartyMakes, $10 3. Fin økologisk hue fra joretta, $30 4. Mintgrøn spareugle fra whitedovecrafts, $20 5. Biderangle fra QualityMontessori, $8,75 6. Farverige, økologiske stofbleer fra sarahwestdesign, $25,50
Most wanted | (right now)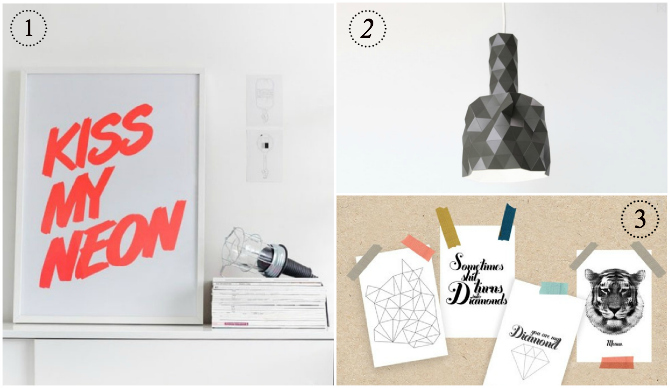 Jeg er head over heels in love. I en plakat, en lampe og fire postkort, that is.
1. Kiss my neon-plakat fra RK // Design hos Theminimalist.com.au, $40 2. Cool lampe fra Faceture hos Theminimalist.com.au, $490 3. Fire, fantastiske postkort fra RK // Design hos Theminimalist.com.au, $12
Beauty | Bang Bang
Jeg tænkte forleden, at jeg da godt kunne gøre frisøren efter og farve mit eget hår… og dermed spare en del penge, men kunne jeg mon også klippe mit eget pandehår uden at ligne en Playmobil-figur? Jovist. Det kunne jeg godt, for se lige den her lille, fine guide, jeg fandt og fulgte. It works like a charm!
Helt lige fik jeg det måske ikke, men det er sådan set også for meget forlangt, når jeg har to hvirvler, som komplet insisterer på at leve deres helt eget liv…
Beauty | Four favorite hair tutorials
For ikke så mange dage siden hyldede jeg hestehalens fortræffeligheder, men lige meget hvor meget, jeg elsker den (og altid ender med den), så vil jeg så gerne lære at sætte mit hår på andre, nemmere, sjovere og smukkere måder, når tiden er til det.
Jeg har derfor – med en kaffe i hånden og en scone i munden – set omkring 75 hår-tutorials på nettet igennem og er kommet frem til fire favoritter, som jeg, og du, må, skal og vil gennemteste i den nærmeste fremtid. Specielt er jeg ret hooked på den nemme updo og selvfølgelig den fine Minnie Mouse-værdige hår-sløjfe.
FIN HÅRSLØJFE…
Er det ikke fantastisk? En sløjfe bundet af dit eget hår! Jeg har i lang tid været håbløst forelsket i store, fine hår-sløjfer, gerne de, der er lidt rodede og alligevel Minnie Mouse-agtige, men jeg har altid tænkt, at jeg på ingen måde kunne finde ud af at lave sådan en. Well, det viser sig ikke at være så svært!
PERFEKT OG HURTIG UPDO…
Jeg prøver virkelig at lade være med at vaske mit hår hver eneste dag, selvom jeg elsker fornemmelsen af nyvasket hår, så den her updo er ret fantastisk… basalt set twister denne smukke dame bare sit hår i sektioner, fæstner med hårnåle og lave en knold i nakken. Trés chic and trés easy!
SUPER FIN KNOLD (MED EN SOK!)…
Næste gang du undrer dig over, hvor magen til din ene sok er blevet af, så lad være med at smide den ud… næ du, kast sokken hen i dit hår-kit og brug den næste gang, du i et snuptag skal lave en knold. Se med her, hvor denne pæne dame kreerer forskellige knolde ved hjælp af en elastik… og en sok, ja.
BOUNCY KRØLLER, DER SLÅR ALT…
Et hurtigt spørgsmål: Hvem vil ikke gerne have hår som Victoria's Secret-modellerne? Altså, det der bouncy, bølgede, effortless chic-hår, som de mestrer så fint? Kig med og lær, når den her smuksak forvandler sit helt glatte hår til smukke krøller ved hjælp af et krøllejern, hårnåle og en fin teknik.
Etsy | These are a few of my favorite things…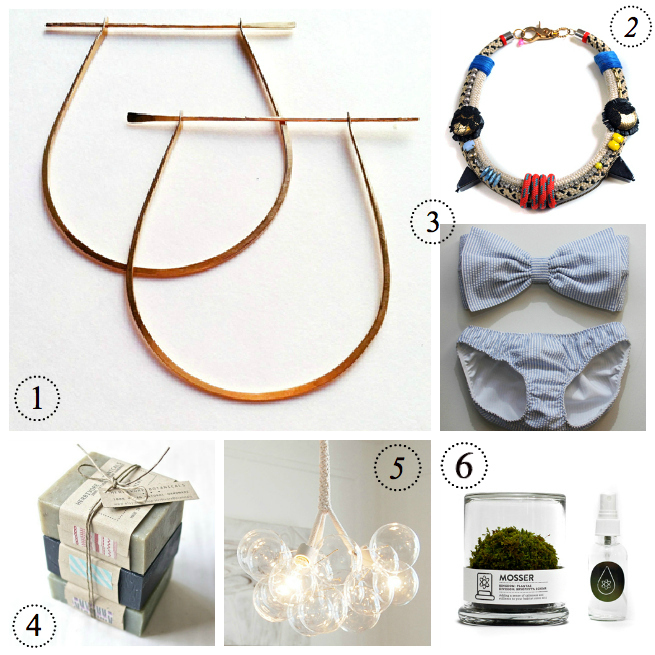 Jeg er, med alle fibre i min krop, vild med tanken om, at Etsy er begyndt at give eBay baghjul… Siden opstarten har den fine, og ret så massive Etsy-markedsplads for meningsfulde, magiske køb, fået sig et ry for at fremme et væld af kunstneriske craftsies og DIY-enthusiaster, der kreerer sager, som ikke sådan lige findes på ethvert gadehjørne… og udvalget er både fint, stort og unikt.
Er udvalget så stort som på eBay? Nej, ikke helt. Og faktisk kan de to markedspladser ikke sammenlignes. Men på Etsy er oplevelsen, for mig, lidt sødere… lidt ligesom at slendre rundt på et loppemarked.
Jeg ville kunne vise flere hundrede sager frem, som jeg gerne vil eje fra Etsy, men mådehold, du ved… her er seks ærværdige, skjulte skatte, som jeg sukker over lige nu.
1. De smukkeste guldøreringe fra andtheparade, $72.00, 2. Cool, tribal reb-halskæde fra Kikinyc, $195, 3. Fin, stribet bikini fra Amourouse, $125, 4. Tre duftende sæber fra HerbivoreBotanicals, $17, 5. Ultrapæn chandelier fra aPELLEshop, $750, 6. Et lille mos-terrarium fra themosserstore, $26
,
Fashion | 9 boots I love
1. I never get tired of leopard prints! Suede ankle booties with leopard print and black stretch inserts at the sides. Isabel Marant, €460
2. Black shearling and leather combo boot with leather knot trim and stacked wooden heel. Chic, warm and wearable at the same time. What's not to love? See by Chloé, €399
3. These booties reminds me of a pair from Stella McCartney that I once owned. Tabitha Simmons, €889
4. I love these bodouir velvet boots. I would love to match them with a skirt, black tights and a cashmere knit. Rag & Bone, €504
5. Not really my type of boots, but once I saw Marie from the gorgeous blog Blameitonfashion.com in a pair that looks just like and I was sold! Topshop, €65
6. Gift wrapping from toe to ankle? Wonderful! Black suede ankle boots with satin wrapped knot detail. Charlotte Olympia, €579
7. Gorgeous stud-heeled satin ankle boots. Way over my financial league, but nonetheless inspiring… perhaps I'll manage to find a pair of vintage satin boots and stud them myself. Stella McCartney, €540
8. I love the banana heel as seen on Miu Miu's AW11 shoes, but I like the more subtle design here from Topshop. In my opinion they are matchable to all kinds of outfits, however would choose to match with a crispy white shirt, a pencilskirt and a classic clutch. Topshop, €62
9. Cuba bootie in bordeaux leopard print. I'm especially loving the pointed toe and the black elastic side inserts. Isabel Marant, €319