Etsy | These are a few of my favorite things…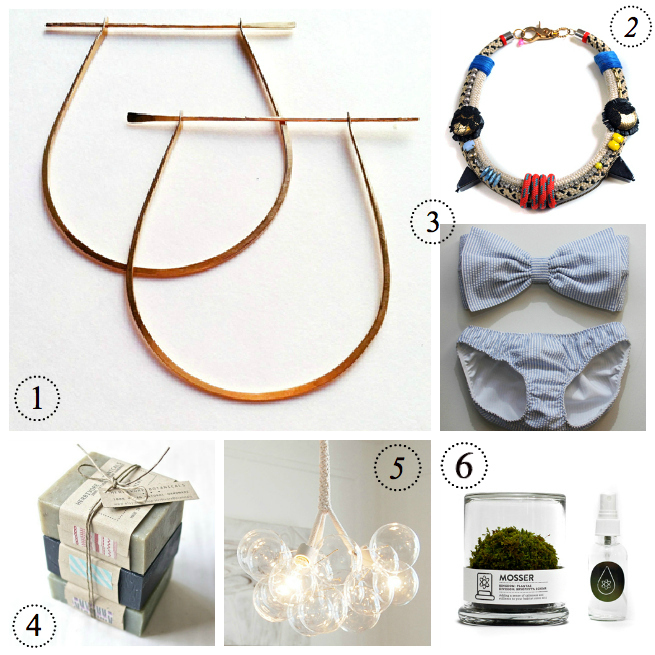 Jeg er, med alle fibre i min krop, vild med tanken om, at Etsy er begyndt at give eBay baghjul… Siden opstarten har den fine, og ret så massive Etsy-markedsplads for meningsfulde, magiske køb, fået sig et ry for at fremme et væld af kunstneriske craftsies og DIY-enthusiaster, der kreerer sager, som ikke sådan lige findes på ethvert gadehjørne… og udvalget er både fint, stort og unikt.
Er udvalget så stort som på eBay? Nej, ikke helt. Og faktisk kan de to markedspladser ikke sammenlignes. Men på Etsy er oplevelsen, for mig, lidt sødere… lidt ligesom at slendre rundt på et loppemarked.
Jeg ville kunne vise flere hundrede sager frem, som jeg gerne vil eje fra Etsy, men mådehold, du ved… her er seks ærværdige, skjulte skatte, som jeg sukker over lige nu.
1. De smukkeste guldøreringe fra andtheparade, $72.00, 2. Cool, tribal reb-halskæde fra Kikinyc, $195, 3. Fin, stribet bikini fra Amourouse, $125, 4. Tre duftende sæber fra HerbivoreBotanicals, $17, 5. Ultrapæn chandelier fra aPELLEshop, $750, 6. Et lille mos-terrarium fra themosserstore, $26
,
Comments
No Responses to "Etsy | These are a few of my favorite things…"