Food | Scones med mørk chokolade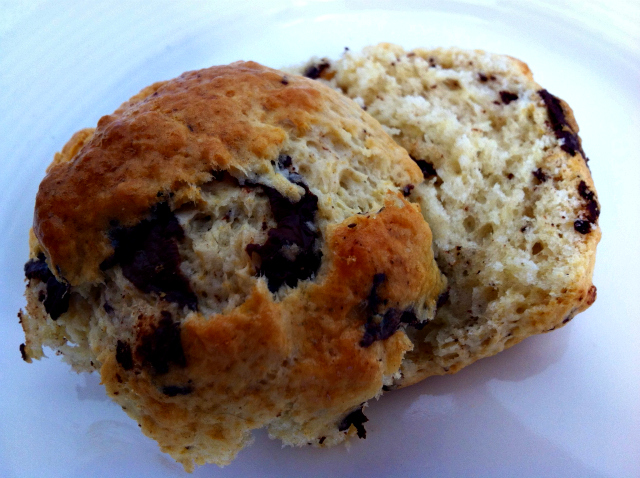 Jeg elsker scones (ah okay, jeg elsker alt sødt), men jeg forguder specielt scones, der er sprængfyldt med god, mørk chokolade og penslet med æg og en smule salt (I tell you; fiffet med salt slår kegler).
Således har jeg i dag bedrevet dagen med at arbejde (lidt), gøre rent (lidt), bage scones (mange), læse en fantasy-bog højt for min dreng (av, hals)… og om lidt skal vi grille. Jeg kan godt lide, når Danmark smiler og sender glædesstråler ned over os, men jeg kan i særdeleshed lide min lille familie, når vi sidder på et tæppe og tvinger de sidste dråber saft ud af en Sunlolly og snakker om alt mellem himmel og jord…
Ingredienser:
150 gram smør
600 gram hvedemel
125 gram sukker
½ tsk. salt
40 gram bagepulver
150-200 gram god, mørk og grofthakket chokolade
2,5 dl kærnemælk
2 æg
Til pensling:
1 æg
lidt salt
Sådan gør du:
Bland alle ingredienserne – med undtagelse af chokoladen – sammen i en røremaskine (eller ælt i hånden) og kør i cirka 5 minutter. Tilføj hakket chokolade og lad dejen hæve i en halv times tid.
Form så til sådan cirka 15 lige store kugler, som du presser lidt på selve pladen, så de ikke er kuglerunde. Husk at der skal være afstand mellem dine scones, for de hæver i ovnen, så hvis det er muligt er det en særdeles god idé at du benytter to plader.
Pensl dine scones med æg, der er pisket let med lidt salt, og bag dem ved 200 grader (alm. ovn) i 15-18 min.
Comments
2 Responses to "Food | Scones med mørk chokolade"
Trackbacks
Check out what others are saying...