Etsy Favorites #3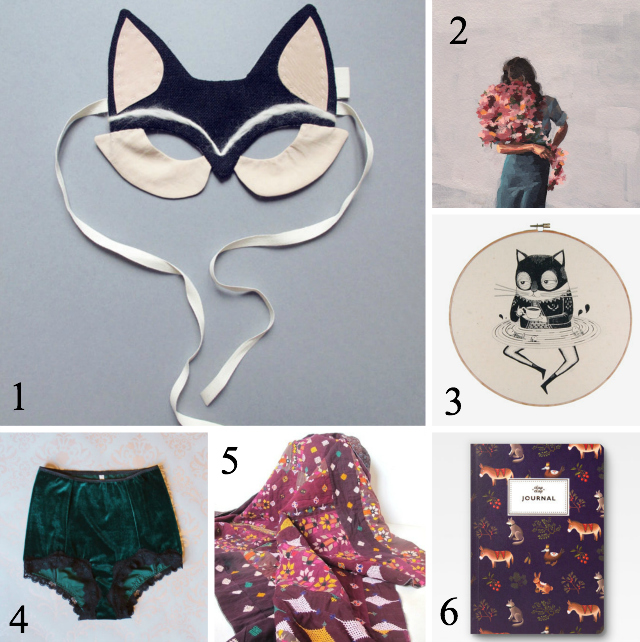 Ej Musse, hvad er det for noget gøgler-noget? Grønne underbukser? Og hvorfor viser du et gammelt tæppe? Er det ikke for kunstner-agtig en side af dig at vise på bloggen? Ak ja. Det kan være svært at være fuldblods-æstetiker, når ens bedre halvdel så tydeligvis ikke værdsætter vintage-trusser i fed, flaskegrøn velour eller kan se skønheden i et gammel, indisk vintage-quilt. Men én må jo bære skønhedens byrde, ha.
Summa summarum: Mine Etsy-forelskelser lige nu… inklusive grønne mormortrusser <3
1. Fin kattemaske i læder og bomuld, 323 kr., 2. Se nu de smukke farver på det her print… og stemningen er så fin, 140 kr., 3. Jeg er notorisk forelsket i den her dansende, kaffe-drikkende kat, 55 kr., 4. Flaskegrønne mormortrusser i velour, 197 kr., 5. Smukt indisk vintage-quilt, 3.098 kr., 6. Den her skal mine fremtidige kreative ideer skrives ned i, 90 kr.
Vind lækker nytårsmenu for 12 personer fra Meyers Køkken (Værdi 4.200 kr.)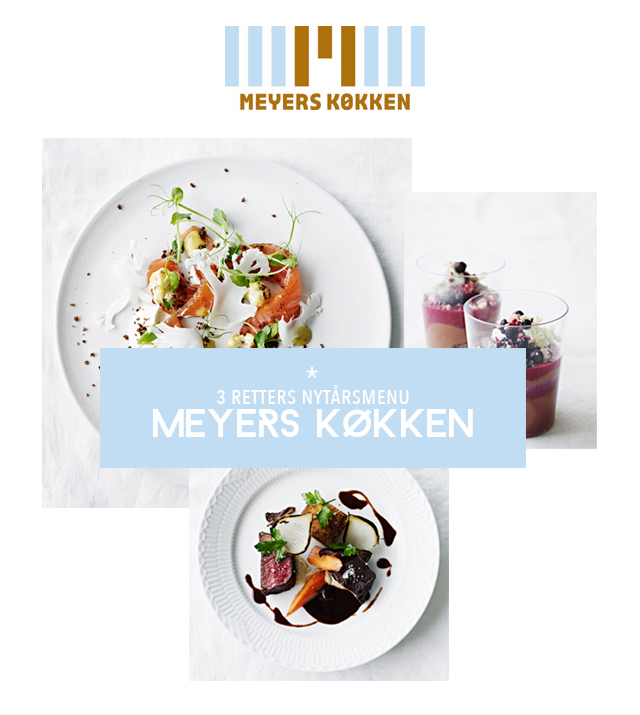 Nytårsmenuer. I og med at jeg er 36 år, har jeg spist mig gennem et par stykker, og jeg kan med skam i stemmen meddele, at ikke alle har været gastronomiske elsklinger. Af forskellige årsager.
Jeg har oplevet alt for mange nytårsaftener, hvor jeg klokken fire om morgenen har stoppet op foran en pølsevogn, fordi maden, der blev serveret til nytårsfesten, var decideret uspiselig. Jeg har spist mig gennem tør torsk, tyk sennepssovs og rødbeder fra glas, og jeg har andre gange svedt i køkkenet hele dage og nætter for at fremtrylle den smukkeste, mest sanselige nytårsmenu… men har ved serveringen været ved at falde i søvn af udmattelse.
I år har jeg valgt nærvær til og køkken-stressen fra. Jeg er derfor ovenud begejstret for at præsentere vores 4. gave i den pakkekalender, som jeg, Fie fra mit udtryk, Louise fra Guld.log, Jeanett fra Miss Jeanett, Kaja fra Shopping4kids og Pernille fra Børnetøjsindkøberen med entusiasme og kærlighed har bikset sammen til jer.
I dag kan du nemlig vinde den vildeste, lækreste og mest gennemtænkte gave: en tre-retters menu fra Meyers Køkken for hele 12 nytårsgæster, så du også kan tilvælge nærvær i stedet for at svede i køkkenet. Værdien er 4.200 kroner!

Menuen er sammensat af Claus Meyer i samarbejde med Køkkenchef i Meyers Køkken, Malene Messmann.
Alle tre retter er tilberedt, så de kun kræver et minimum af køkkenindsats lige inden servering, og der medfølger vejledning til det hele. Det kan næsten ikke være nemmere, vel?
Menuen består af følgende lækkerier: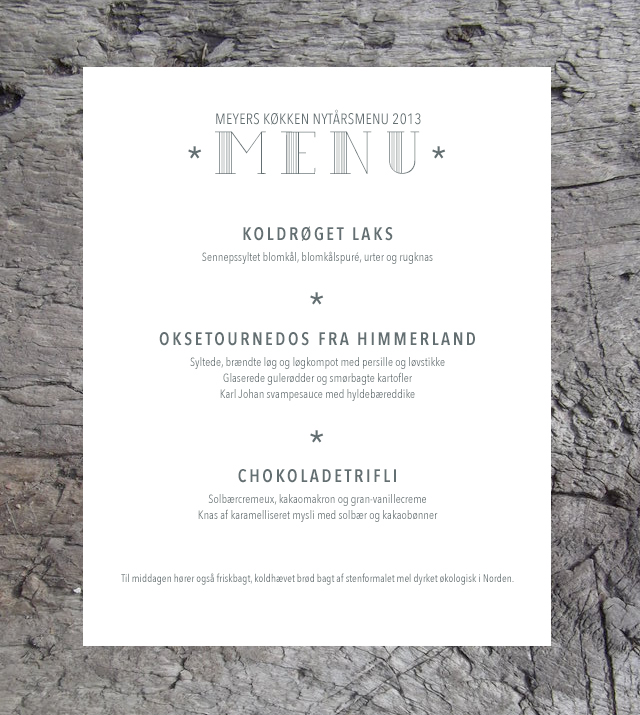 … Og nu til selve konkurrencen
En af jer vinder en tre-retters menu for 12 personer fra Meyers Køkken til en samlet værdi af 4.200 kroner.
Den 31. december skal du hente den færdige menu et af nedenstående steder (Hvis du nu tænker, at du ikke helt tør binde dig an på, at det er dig, der rammens af Meyers pil, så kan du snildt bestille din nytårsmenu allerede nu hos Meyers Køkken):
Meyers Køkken, Kattegatvej 53, port 2, 2100 København Ø.
Meyers Madhus, Nørrebrogade 52C, 2200 København N.
Den Blå Planet, Jacob Fortlingsvej 1, 2770 Kastrup.
Meyers i Lyngby, Lyngby Hovedgade 39, 2880 Lyngby.
Meyers Deli, Gl. Kongevej 107, 1850 Frederiksberg.
Meyers Deli, Godthåbsvej 10, 2000 Frederiksberg.
For at deltage skal du følge nedenstående konkurrence-regler (og de skal alle overholdes!):
1) Synes godt om/like Claus Meyers Facebook-side HER
2) Det samme skal du gøre med bloggens Facebook-side HER
3) Smid en kommentar her på indlægget om, hvilket sted, du ønsker at afhente, hvis det er dig, der vinder
Konkurrencen slutter på lørdag d. 7. december kl. 23.59 og der offentliggøres en vinder dagen efter.
Beauty | Wuthering Heights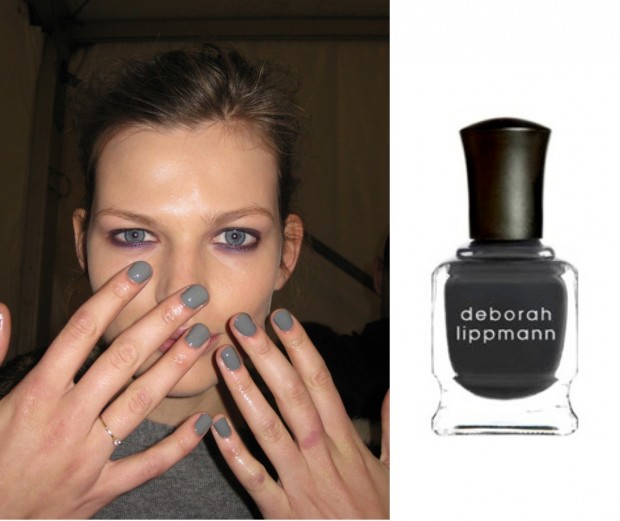 A small but not negligible beauty tip: Designer Narciso Rodriguez contacted manicurist Deborah Lippmann 24 hours before his AW/2011-collection was to be shown to the press. He was in search for a one-of-a-kind nail polish that symbolized clouds, thunder and storm… was Deborah Lipmann able to work wonders? Yes indeed… in just 24 hours the nail polish Stormy Weather was created.
The nail polish caused great jubilation at Narciso Rodriguez, love at first sight amongst the models (who stole all the samples after the show… who could blame them?) And now the small thunder and storm in a bottle makes me smile brightly. The nail polish is a little darker than the color you see on the model's nails, and perhaps also a bit more green, but it doesn't make me love it less. The nail polish is perfect for an all black or gray looks. Just add a simple silver ring and you are good to go!
__________________
Et lille, men ikke uanseeligt beauty-pip: Designeren Narciso Rodriguez kontaktede Deborah Lippmann 24 timer før hans AW/2011-kollektion skulle fremvises for pressen. Han manglede en one-of-a-kind-neglelak, der symboliserede skyer, torden og uvejr… kunne Deborah Lipmann mon trylle? Ja, det kunne hun, for på bare 24 timer var neglelakken Stormy Weather skabt.
Neglelakken vakte stor jubel hos Narciso Rodriguez, hos modellerne (der stjal samtlige samples med hjem efter showet… who could blame them?) og nu vækker den jubel her på mine negle. Lakken er lidt mørkere, end du ser den på modellens negle (måske blitzen?), men det gør mig nu ikke noget. Synes, den er perfekt til et helt sort eller gråt look.