Food | Easy yet yummi apple cake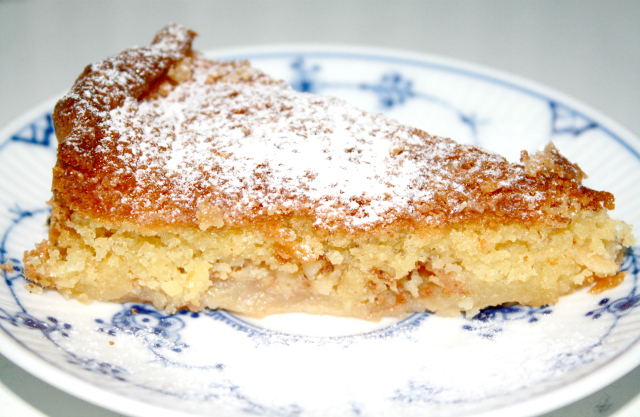 Dagene går bare og klokken slår… og inden jeg får set mig om, er jeg så træt, at jeg er helt skeløjet og vælter i seng. Heldigvis ser det ud til, at der nu kommer lidt mere ro på. Det manglende måske også bare, når der nu kun er 2 1/2 uge til Elizabeths ankomst (eller du ved, sådan cirkus 2 1/2 uge. Hun kunne vel i realiteten også arrivere nu?).
Nå, men som billedet jo så fint lægger op til, har jeg bagt en gammel kending, som faktisk er en afart af min ellers så dejlige pund-til-pund kage… den her er bare lidt nemmere, består kun af få ingredienser, røres hurtigt sammen og de to æbler, der skal i dejen, skrælles bare og skæres i tykke både. På travle dage er jeg så absolut fan af hurtige løsninger (hvilket minder mig om, at jeg tænker at lave et indlæg om specifikke halvfabrika, som rent faktisk er tried, tested and loved og ikke er fyldt med (drabeligt mange) tilsætningsstoffer… interesseret?).
Eneste minus er, at kagen skal have omkring en time i ovnen, men resultatet er ret skønt: Blød og luftig kage med en snert af karamel-crunch og en fin sødme fra æblerne. En skoldhed kop te, et tæppe, en god bog og et stearinlys er ret gode makkere til den her kage, hvis du spørger mig.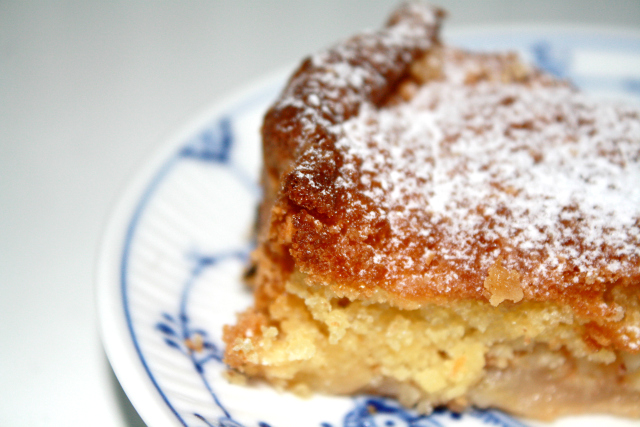 Ingredienser:
200 gram blødt smør skåret i mindre stykker
250 gram (rør)sukker
3 hele æg
150 gram mel
1 tsk bagepulver (med top!)
2 æbler, skrællet og skåret i både
Kanelsukker
Mandelsplitter
Sådan gør du:
Tænd først ovnen på 190 grader og bland så smør og sukker på en røremaskine eller med en elektrisk pisker, så massen er nogenlunde homogen. Herefter rører du æggene i dejen, et af gangen. Bland nu mel og bagepulver sammen i en anden skål og hæld blandingen i sukker/smør/æggemassen.
Hæld dejen i en springform med bagepapir og mas æblebådene ned i dejen. Afslut med rigelige mængder af kanelsukker og mandelsplitter. Sæt så kagen i ovnen og bag den i cirka en time eller indtil kagen er gylden og du kan stikke en strikkenål e.lign. i kagen, uden at dej hænger ved.
Server som den er – det er den dejlig nok til – eller match med creme fraiche eller letpisket flødeskum.
Comments
5 Responses to "Food | Easy yet yummi apple cake"
Trackbacks
Check out what others are saying...