In need of time.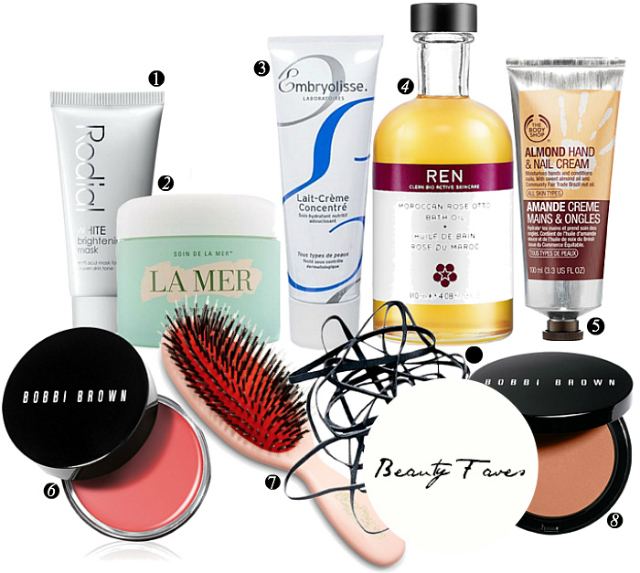 Jeg render jo rundt i en evig air af dårlig samvittighed over at ligne, well, udskidt æblegrød. Jeg mener… hvordan har du tid til at lakere negle, barbere ben, få farvet hår, lægge makeup, ja, sågar gå i bad, hvis du samtidig har job, pligter, børn, morgenmad/frokost/aftensmad/snacks, der skal passes og plejes?
Jeg har vitterligt svært ved at afse tid til at føntørre mit hår i 15 minutter, lægge masker, plukke øjenbryn, sørge for at komme til frisøren – og forstår seriøst ikke, hvordan nogle bare kan gå rundt og se så groomed ud. Måske hænger det sammen med en klassisk mor-dårlig-samvittighed, altså at hvis jeg føntørrer hår i 15 minutter, så er der en baby, der mangler mig, og jeg pålægger en anden person arbejde?
Hvis du ligger inde med vise ord og gyldne råd, så hit med dem ;-)
Nå, men ovenstående svada hænger sådan set ikke så godt sammen med collagen, andet end at den er en forlængelse af mit indlæg om dovne kvinders beauty rutiner.
Så her er en række produkter, som jeg selv er glad for. De gør, hvad de skal, og de gør det hurtigt. Tried, tested and loved… når jeg har tid <3 1.White Brightening Mask fra Rodial er fantastisk! Indeholder frugtsyre og strammer huden op, 2. Body Creme fra La Mer toner opstrammer og får huden til at stråle, for real! 3. Lait-Crème Concentrè fra Le Embryolisse er min yndlings-dagcreme skarpt efterfulgt af ansigtsolien fra Rudolph Care 4. Moroccan Rose Otto Oil fra REN er decideret ren nydelse og kan sagtens bruges som parfume, 5. Almond Hand & Nail Creme fra The Bodyshop er den bedste håndcreme, jeg nogensinde har prøvet, 6. Pot Rouge fra Bobby Brown er en creme blush, som også virker formidabel som læbestift, 7. Pocket-hårbørste fra Mason Pearson er så fin, så god og så vintage-agtig, 8. Elastikker fra Blax er et must, hvis dit hår er porøst, 9. Bronzing Powder fra Bobbi Brown er helt enkel, men ret uundværlig.
Comments
No Responses to "In need of time."