Caught in Crumpet.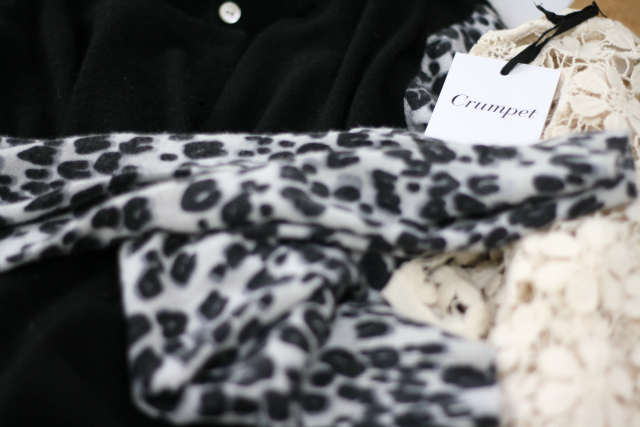 Åh. Lige som jeg troede, at mit modehjerte ikke kunne banke særlig heftigt mere, kom det seriøst på overarbejde. Hvorfor? Well, ind ad havestien kom et GLS-bud med en pakke til mig… og i pakken lå der gud hjælpe mig gaver fra mit absolutte yndlingsmærke Crumpet som tak for, at de har fået lov at stille mig et par spørgsmål på deres blog.
Jeg har skrevet om Crumpet før lige her, da jeg i surhed trøsteshoppede… mærkets cashmere-strik er fantastisk og heldigvis ikke sart, så selvom du måske ikke er sådan en, der passer nidkært på dit tøj (hej til mig!), kan det altså godt betale sig at investere i specielt deres cashmere, som sjældent fnuldrer og i øvrigt (men hæng mig ikke op på det!) har overlevet voldsomme vaskemaskine-ture herhjemme.
Hvad indeholdte pakken? Et styks fuldkommen fantastisk, sort cashmere-cardigan med leopard-ærmer + ditto smuk, cremefarvet t-shirt i tyk blonde, som jeg tænker skal styles med et sort bælte i taljen.
Hvis du vil læse mine svar på Crumpets blog (og dermed – måske – lære lidt mere om mig), så kan du læse med her, hvor jeg både løfter sløret for yndlingsmusikken lige nu, hvad der står på mit skrivebord og hvilke forretninger, jeg bedst kan lide at shoppe i. Not rocket science, I know, men ikke desto mindre sjovt.
English recap: Just received a beautiful cashmere cardigan + ditto gorgeous lace t-shirt from Crumpet. As always I really recommend this brand for their edgy-luxe staples. They never go wrong. I've been interviewed by the Crumpet team… if you want to take a peak I'm featured on their blog.
Comments
4 Responses to "Caught in Crumpet."