Food | Pasta with spicy meat balls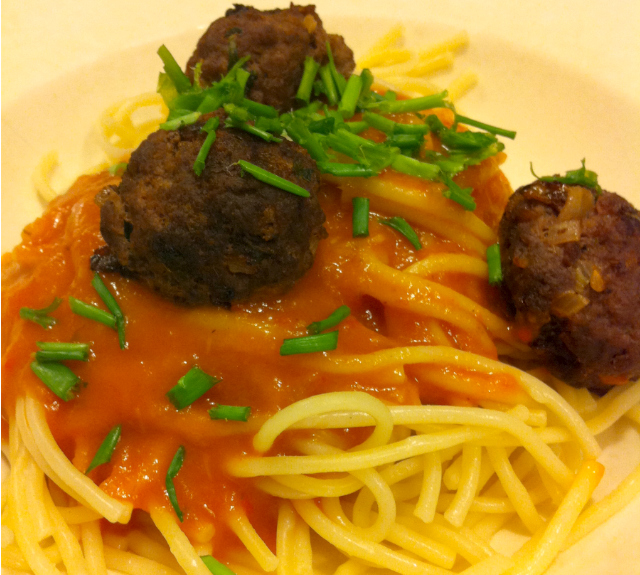 Do find your old red checkered tablecloth and serve a classic Lady & the Tramp dish with tomato sauce that's stuffed with vegetables, and meatballs with fresh basil.
The special thing about this dish, and actually why I love it so much, is the red bell peppers which gives the sauce a nice, sweet tone. Next day, when all the meatballs are long gone, you can even eat the sauce cold as a kind of gazpacho.
Meatballs
400-500 g minced beef
1 handful of fresh basil leaves, chopped
1 onion, peeled and chopped
1 garlic clove, chopped
2 tomatoes, chopped
Put all ingredients into a bowl and mix well. Form approx. 20 small meatballs and fry them in olive oil and butter. Set aside.
Tomato sauce
2 cans of peeled tomatoes or 1 bottle of pureed tomatoes
½ liter of chicken stock
1 onion, peeled but not necessarily chopped nicely
1 red bell pepper, chopped
2 stalks of celery, chopped
50 g butter
2 tbsp. wheat flour
1 handful of fresh basil leaves, chopped
2 garlic cloves, chopped
Melt butter and whisk the flour in. Add onion, celery, bell pepper and garlic and stir for a few minutes. Now add the ½ liter of stock, tomatoes and basil. Let it cook for at least 10 minutes and season with salt, pepper and sugar. Now blend it and season again… serve with pasta, your meatballs and parmesan.
________________
Ah, ind med den rødternede dug, sæt italieneren på iPod'en og server en klassisk Lady & Vagabonden-dish med tomatsauce, der er proppet med grøntsager, og kødboller med frisk basilikum og hvidløg.
De specielle ved retten her, og det som jeg knus-elsker, er den røde peber, som er i saucen… det gør, at retten får en fin, sødlig nuance. Næste dag, når kødbollerne for længst er spist, kan du spise saucen kold som en slags gazpacho… den smager formidabel!
Kødboller
400-500 g hakket oksekød
½ bdt. frisk og finthakket basilikum
1 løg, pillet og finthakket
1 fed hvidløg, finthakket (kan udelades, hvis der er sarte børnemunde om bordet)
2 finthakkede blommetomater
Kom alle ingredienserne i en skål og bland godt. Form så ca. 20 små kødboller og steg dem i olivenolie og smør på alle sider. Sæt til side.
Tomatsovs
2 dåser flåede tomater eller 1 flaske med purerede tomater
½ liter fond, gerne kyllingefond
1 løg, pillet, men ikke nødvendigvis finthakket, da alt blendes efterfølgende
1 rød peberfrugt, hakket
2 stængler bladselleri, hakkede
50 g smør
2 spsk. hvedemel
½ bdt. grofthakket basilikum
2 fed finthakkede hvidløg
Smelt smør og pisk melet i. Tilsæt løg, selleri, peberfrugt og hvidløg og rør rundt i et par minutter. Tilsæt nu ½ l fond, tomater og basilikum. Lad det koge i mindst 10 minutter og smag til med salt, peber og sukker. Stavblend, smag til igen… og server med pasta, kødbollerne og parmesan.
Comments
No Responses to "Food | Pasta with spicy meat balls"