High end summer dreams.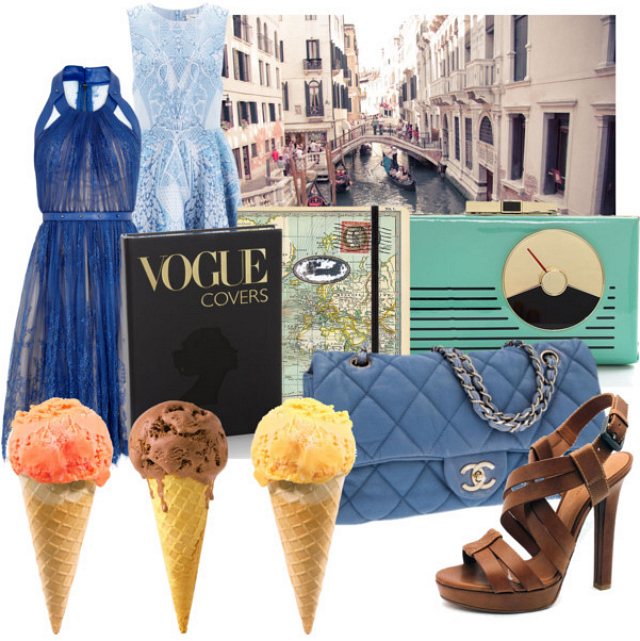 A girl is allowed to dream, right? In that case har jeg samlet 7 storladne ønsker for min sommer… hvis bare ét af dem bliver indfriet, så er jeg en happy camper:
Jeg ønsker mig på sviptur til Venedig, uden søde og kære børn, hvor jeg slendrer langs kanalerne, besøger Guggenheim-museet og spiser is i store mængder (sidstnævnte ønske skulle nok kunne indfries, i hvert fald herhjemme… om lidt siger jeg velkommen til min elskede ismaskine, som kommer til at brumme sommeren lang).
I og med at drømmen også indbefatter, at min gamle krop indfinder sig igen (hej minus 10 kilo), så ifører jeg mig blå sommerkjole med blonder, enten fra Temperley London eller Catherine Deane, snyger mine fødder i Bottega Veneta-sandaler og kaster en blå Chanel-taske over skulderen. Tasken rummer både transportabel radio fra Kate Spade og bog indeholdende alle Vogues covers + notesblok med verdenskort fra Cavallini, så jeg kan notere alle de lækre frokost-restauranter, jeg besøger, ned til senere brug.
Nu burde jeg måske skrive, at mindre også kan gøre det, men nix. Det kan det ikke, i hvert fald ikke, mens jeg er i drømme-limbo ;-)
Comments
No Responses to "High end summer dreams."