30 Day Test | Redken love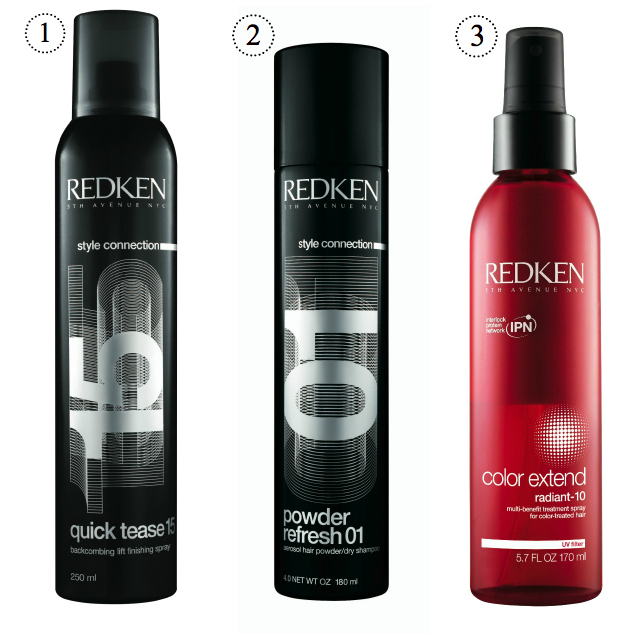 Det er sjældent, at jeg forelsker mig i stylingprodukter til håret… på én eller anden måde er mit hår for tyndt, bliver for hurtigt fedtet og klasker sammen, hvis jeg bruger produkter… that is, indtil jeg fandt de her tre vidundere fra REDKEN.
Jeg ved ikke, om du kan huske, at jeg var til CPH Moda i Bella Center, hvor jeg fortalte, at jeg havde købt et par produkter fra REDKEN? Well, det er de tre her…
Egentlig var jeg ude efter at teste hårpudderen Powder Refresh 01, fordi den efter sigende skulle være god (og guderne må vide, at der er langt imellem de gode hårpuddere). Jeg kan berette, at det ER den faktisk, altså god. Den er transparent (modsat mange andre, der, selvom de siger, at pudderen er transparent, giver en mørkhåret som mig et umiskendeligt skær af musegråt), er nem at spraye i håret, tynger ikke håret og holder hele dagen… kunne jeg give den stjerner, ville den få seks stjerner ud af seks. Den er seriøst på min nye top 10 beauty-liste, sørger for, at jeg ikke behøver at vaske mit hår hver eneste dag… og så giver den tilmed lidt hold.
Quick Tease 15 er lige så fantastisk. En slags lift finish spray, eller hairspray om du vil, der giver extra præcision, en lidt mat finish og et fantastisk hold uden at håret ser lakket ud. Er også god til lige at give det der ekstra løft, fx når du touperer håret, som guderne må vide, at mit skandinaviske hår har brug for.
Som rosinen i pølseenden… Redken Color Extend Radiant 10 er en slags lotion, der modvirker uglet og uregerligt hår og genopbygger ødelagte spidser… men der, hvor jeg faktisk synes den gør den største forskel, er, at den har sørget for at farven i mit hår holder bedre end ellers. Farve i mit hår har det ellers med gerne at ville skylles ud efter få hårvaske, men faktisk er det nu 1,5 måned siden, at jeg har fået farvet lokkerne, så jeg er altså ret godt tilfreds… og pjattet med at have fundet tre produkter, som jeg rent faktisk synes holder, hvad de lover.
1. Powder Refresh 01, 220 kr., 2. Quick Tease 15, 260 kr., 3. Color Extend Radiant 10, 260 kr.

Comments
No Responses to "30 Day Test | Redken love"